Logging On
Use the URL provided by your administrator to log on to Work Center. A sample URL is:
http://serverName/workcenter
Parts of the Interface
Use the legend below the figure to learn about the different parts of Work Center.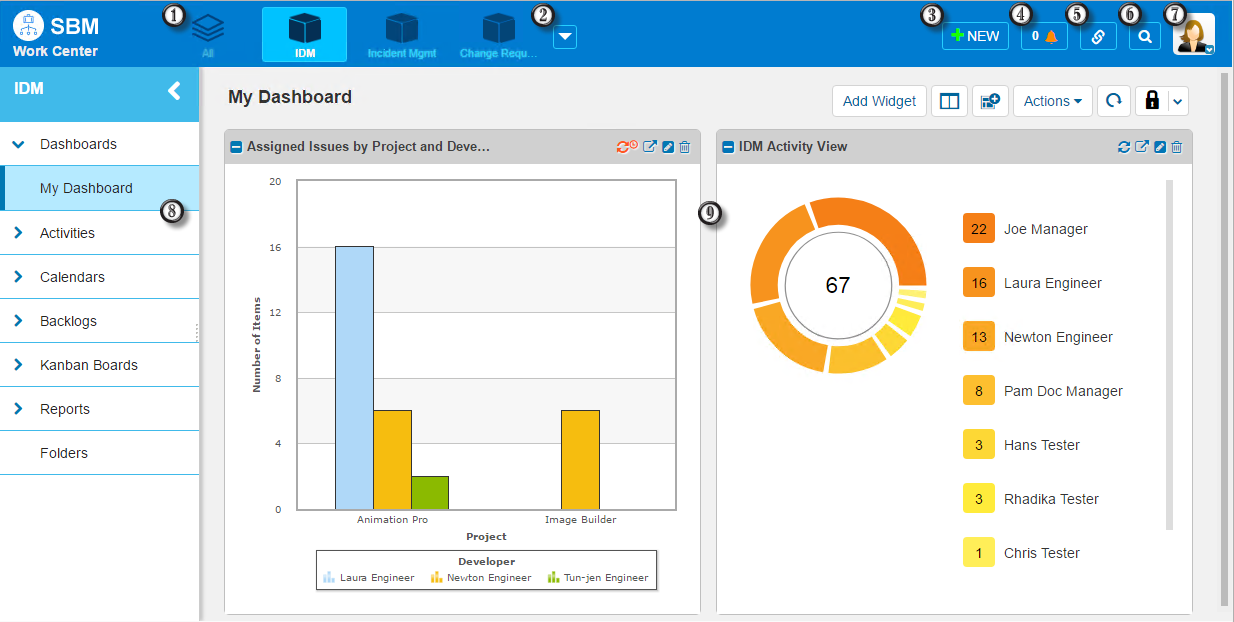 All

Click to work with views and reports in a global context.

Note:

If this icon is not available, your administrator has disabled the

All

context.

Refer to Working With Views and Feeds.

Applications/Application Groups

Click the Down arrow to pin applications and application groups to the toolbar. Once an application is pinned, click the associated icon to work with application-specific views and reports.

Submit New Work Items

Click to submit a new work item into a selected project.

Refer to Submitting New Work Items.

Notifications View

Click to view notifications based on your subscriptions.

Refer to Viewing Notifications.

Quick Links

Click to select from a list of your user-defined links, which span all applications.

Refer to Working with Quick Links.

Search

Search for work items and reports in all applications or in the selected application.

Refer to Searching for Work Items and Searching for Reports.

Settings Menu

Click the user icon to:

Change

Settings

in your user profile. Refer to Setting User Profile Options.
Search for and work with auxiliary items via the

Manage Data

link.
Set up an

Out of Office

period to delegate items to other users. Refer to Delegating Work Items to Other Users.
Launch Application Administrator (for users with administrative access only).
Log out of

Work Center

.
Launch the

Quick Tour

or view online help.

Your user privileges determine which menu options are available.

Side Menu

When All is selected, the side menu provides access to global views. When a pinned application or application group is selected, the side menu provides access to application-specific views and reports.

You can resize the navigation pane horizontally or collapse the side menu by clicking the arrow icon.

Views and Reports

Click a view to create, modify or delete views of that type. Click Reports to find, manage, and schedule reports in the current application context.