About Working with Baselines
The following figure shows a typical workflow when working with a baseline.
NOTE  The administrator defines the baseline template in the Administration Console. For more information, see the Process Configuration Guide.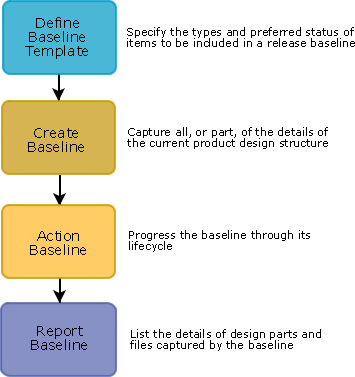 For more information on reports, see the Reports Guide.
In the desktop client, you can do the following:
View items: View the items included in a baseline.

Show users, roles, and privileges: View the role assignments and privileges for a baseline and the users who have the baseline in their Inboxes.

View history and pedigree: View the action and update history of a baseline and see the objects related to the baseline.

Action baselines: Move baselines from one state in the lifecycle to the next state. Move the items in a baseline from one state to another.

Edit attributes: Change a baseline's attributes.

Create a baseline: Create a new baseline from a project/stream or a design part.

Create revised baselines and create merged baselines: Use existing release baselines to create revised and merged baselines.

Delete a baseline: Delete a baseline that was created prematurely or is no longer needed.
Related Topics
About Revising and Merging Baselines
Viewing Users, Roles, and Privileges for a Baseline
Creating a Baseline Scoped by Design Part