Use the Report Center to create, run, and manage reports. Use the legend below the following figure to learn more about the Report Center.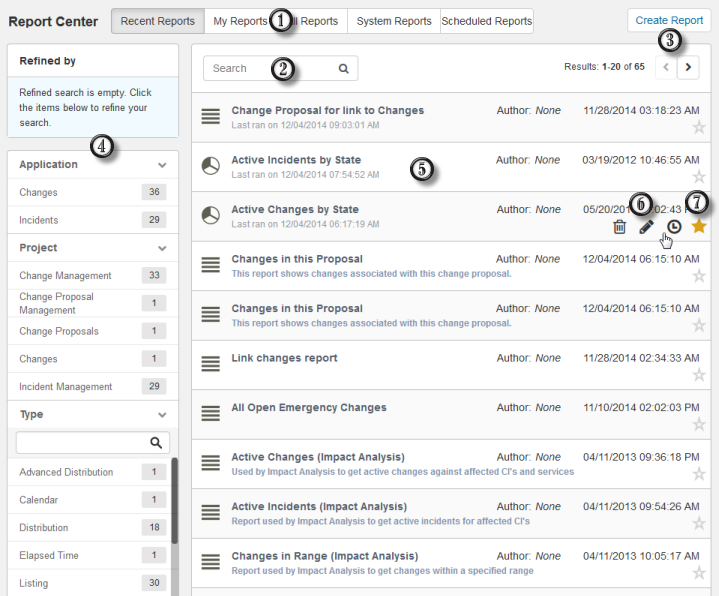 Choose to view reports in these categories for the selected application or application group:

Recent Reports

See the most recently run reports. Results are limited to 200 reports.

My Reports

See reports you created.

All Reports

See all reports you can access for the selected application or application group. Reports are listed alphabetically.

System Reports (On-premise only)

See reports that provide information about administrative aspects, such as fields, user privileges, group membership, user activity, and more. Typically, System reports are only available to administrators. They cannot be deleted or customized, nor can new System reports be created. For details, refer to the SBM Reporting Guide located on the Documentation Center.

Scheduled Reports

Lists reports that are scheduled to run at a particular time. Results are sent to your e-mail address. For details, refer to Scheduling Reports.

Search for reports within the selected category.
Click to create new custom reports. For details, refer to Creating Reports.
Filter the list of reports by application, project, auxiliary table, report type, access level, or author.

Note:

If more than 10 items are returned in any category, you can search the results lists. For example, if more than 10 applications are returned, you can search for a specific application in the result list.

Click a report row to run the report.
Hover over a row to and click an icon to:
Click the star icon to pin a report to your menu. Pinned reports are indicated by a yellow star. Click the yellow star to remove a report from your menu. For details, refer to Customizing Your Menus.