In this use case, the values a user selects on a form for the Testers field are overwritten by values specified in the End step in a synchronous orchestration workflow. The Testers field values are sent in the orchestration link for the orchestration workflow.
Configure the

End

step to update the Testers field to contain only "Susan" and "Joe."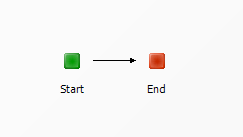 After the user selects "Amy" and transitions the item, the Testers field contains only "Joe" and "Susan."