In addition to items from work item feeds or external data feeds, you can populate a Kanban board with accepted items from a backlog view. This means you can create a backlog view, move items into the Accepted list, prioritize the items as needed, and then work with those same items in a Kanban board.
Note that you can only add one backlog to a Kanban board; however, you can add multiple feeds in addition to that backlog.
To add items from a backlog view on your Kanban board:
Items in the backlog's
Accepted
list now appear on your Kanban board. If you add or remove items from the
Accepted
list, the corresponding cards are added or removed from the Kanban board.
By default, items from a backlog view are displayed with the backlog priority number on the Kanban card. For example, this card represents the 7th item in the Accepted list: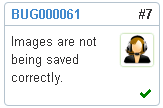 You can also sort cards on the Kanban board according to backlog priority.