About Build Projects
Dimensions CM organizes build configurations underneath Dimensions projects; that is, projects defined in Dimensions itself. Part of the process of creating a build configuration is to select a Dimensions project.
The navigation pane of the Build Management tab shows the Dimensions projects in use.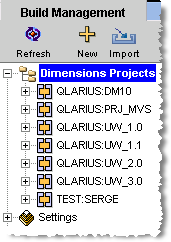 If no projects have been associated with a build configuration yet, no Dimensions projects will appear in the tree. Expanding a specific project reveals the build configurations, and their components, underneath: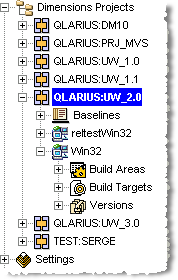 Similar, but not identical, project and configuration trees appear under the Scheduling, Monitoring, and Notifications tabs. Since those functions are primarily described in sections dedicated to those tasks, this section will describe the behavior underneath the Build Management tab.