Working on Change Requests
Open a change request to update and work on it. A change request with some associated tasks might look something like this.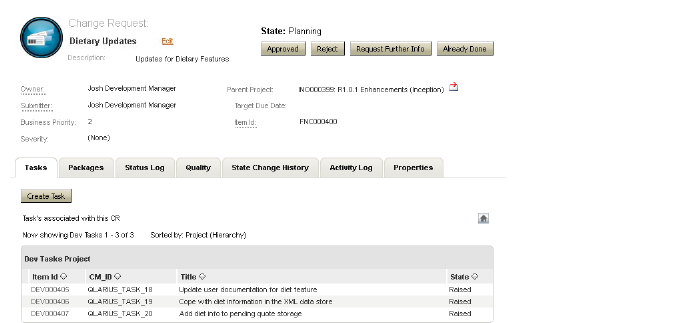 From a change request, you can:
Review information about the change request, including its change history, Quality Center relationships, associated tasks, associated change requests, and associated development packages by selecting the relevant tabs.

Update the title, description, assignment, and other properties by clicking the Edit link.

Transition the request to a different state, for example click the Under Work button to transition it to the Under Work state.

Click the Create Task button on the Tasks tab to create a task that will then be related to this request, and that you can then assign to the specific resource who will do the work. View the Activity Log tab to see the actions that have been performed on the change request. Click the arrows at the left of a row to expand the details.